Cercetare individuală. Virginás Andrea: The Role of Generic Panels in European Small Cinemas
Acest proiect de cercetare individuală postdoctorală este finanţat de programul Resurse Umane PN II al CNCS - UEFISCDI / Ministerul Român al Educaţiei şi se desfăşoară între  1 mai 2013 - 31 octombrie 2015. Numărul proiectului: PN-II-RU-PD-2012-3-0199.

Membrii proiectului: Andrea Virginás (cercetător postdoctoral), Ágnes Pethő (mentor).
Abstractul proiectului: Dacă elementele generice sunt fundamentale în definiţia cinema-ului mainstream şi global, putem pune întrebarea: cinema-urile regionale, sau aşa-numitele cinema-uri minore cum folosesc, sau cum redefinesc aceste elemente generice? În această cercetare examinez filme poliţiste şi de detecţiune, filme science-fiction şi melodrame relativ recente, care în acelaşi timp fac parte şi din diferite cinema-uri minore (est-europene - filme maghiare, române, scandinave - filme daneze, suedeze, islandeze). Perspectiva analizei: în ce mod şi cu ce scop sunt utilizate elementele generice ce apar în aceste filme? O perspectivă nouă asupra relaţiilor între canoanele cinematice regionale şi fenomenele generice este vizată, toate acestea fiind contextualizate şi din privinţa fundamentalei schimbări technologice şi culturale ce influenţează filmul şi lumea media începând din anii 1980: schimbarea paradigmei analoge cu cea digitală.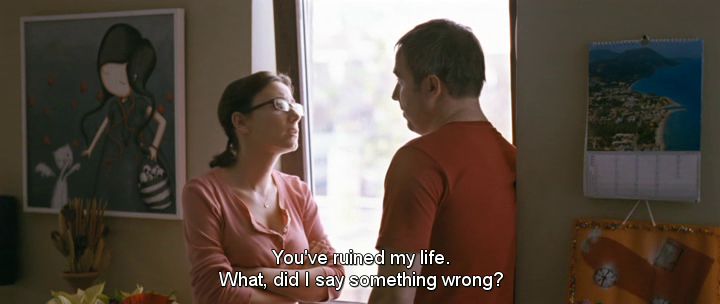 Mirela Oprişor şi Mimi Brănescu (screenshot din filmul Marţi, după Crăciun (2010, Radu Muntean)
Obiectivele generale ale proiectului: argumentarea ipotezei conform căreia elementele şi formulele de film de gen au un rol important şi în cazul European small cinemas (industriile filmice minore din Europa), în era interconectivităţii digitale. De-a lungul proiectului sunt vizate cinci prezentări la conferinţe internaţionale, cinci articole ştiinţifice în reviste de specialitate şi manuscrisul unei monografii predate ptr. peer-review la finalul proiectului.
Rezultate parţiale:
Prezentări la conferinţe (ppt-uri, pentru perioada mai 2013 - decembrie 2014):
1. Spatial Confinement and Emotional Entrapment in "Global" and ("Postcommunist") "Small" Melodramas. Media Politics, Political Media NECS Annual Conference, Faculty of Arts, Charles University, Prague, Czech Republic, 2013 June 20th-22nd,
2. First Films and Generic Allegories: on the Role of Complex Narrative Designs in Films by Natali, Aronofsky, Tykwer. 2013 International Conference on Narrative, Manchester Metropolitan University, UK, 2013 June 27th - 29th,
3. Analogue and digital, immediate and hypermediate: examples from contemporary detection (and science-fiction). Rethinking Intermediality in the Digital Age. Conference of the International Society for Intermedial Studies, Sapientia Hungarian University of Transylvania, Cluj-Napoca, 24-26 octombrie 2013,
4. Generic panels and small cinemas: Scandinavian and Eastern European examples. European Film Cultures. ECREA Film Studies Section Interim Conference, Centre for Languages and Literature, Lund University, Sweden, 8-9 noiembrie, 2013,
5. On the medial coding of traces: "immediate" and "hypermediate" detection. Crime and Detection in the Age of Electronic Reproduction. Traditions, Expectations, Genres and Codes. Technical University of Liberec, Czech Republic, 22-24 November, 2013,
6. The "burden of the real" in Eastern European and Scandinavian genre films: dancing bodies, endoscopy and knitwear. Thinking Reality and Time through Film: International Conference on Philosophy and Film. Lisbon University, May 6-10, 2014.
7. Female stars, men's films? Romanian films from the 2000s. Bodies In Between - Coporeality and Visuality from Historical Avant-garde to Social Media. Babes-Bolyai University, Cluj-Napoca, May 29-31, 2014,
8. Generic Panels in European Small Cinemas: a Recipe for Creative Outcomes? Creative Energies, Creative Industries: The NECS 2014 Conference. Universita Cattolica del Sacro Cuore, Milan, June 19-21, 2014.
9. Cultural Studies Approaches in the Study of East European Cinemas. "Interior cinematic spaces, social identification, and coping with trauma in recent Hungarian and Romanian films." 12th ESSE Conference, Pavel Jozef Safarik University, Kosice, Slovakia, 29 August-2 september, 2014.
10. Casetti's "Unreal Objective Shot" and Intermedial Moments. The XV. Film and Media Studies Conference in Transylvania: Figurations of Intermediality in Film. Sapientia University, Cluj-Napoca, Romania, 24-26 October, 2014.
11. Experiencing Foreign Spaces: Memories Lingering between Afilmic, Profilmic, and Diegetic Realities. Screen Memories: Depictions of State Socialism and 1989 in Screen Media. ELTE University, Budapest, Hungary, 24-26 November, 2014.
Publicații:
Rapoarte științifice intermediare: august 2013, decembrie 2013, aprilie 2014, august 2014.
Pagina de web al directorului de proiect: aici.